Hello everybody.

I have a Picoscope 2207B and I am using "PicoScope software version : 7.1.9.16090 on Window 11, french version. After spending a lot of time trying to generate a CSV file to create a signal and import it into the signal generator, I have to face the facts, the import does not work on a french version of Windows.

Depending on the case, I have one or the other of these two errors: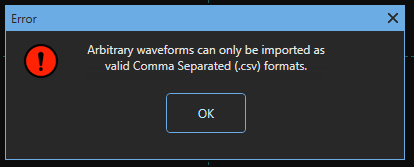 The first one occurs when I try to import a CSV file containing this kind of data :

0.00000000
0.12345678
0.23456789

The second error occurs when the CSV data is written the french way, with a coma instead on a dot.

0,00000000
0,12345678
0,23456789

The number of decimals does not matter, the errors always occurs. Even more: it is not possible to import into the signal generator a file exported by the signal generator itself. We get the second error... But this remains logical with what is said above because the file exported by the signal generator contains french formated décimal numbers :

0,00000000
0,12345678
0,23456789

the only way I can import a CSV file into the signal generator is avoiding using decimal numbers. For instance, this works :

0
1
0
-1
0
1

It's absolutely the only way to do it.

So, it is clear that there is a software problem in the way of managing the CSV importation and exportation on a French computer. I Hope someone could find a solution because this is a very anoying issue.

Thank you very much for your help.